It's true.
I am a

Potterphile

.
I have read all the books several times. I own all the movies and have watched them so many times, that I can
almost
quote the dialog. And judging from the online response that I have seen over
The Unofficial Happy Potter Knits
from Interweave Press, many of you are too. In fact, I have seen on Facebook that several yarn stores have already sold out of their copies and have reordered them.
I hate to admit it, but when I learned earlier this year that there was going to be a magazine with designs based off the successful
J.K. Rowling
books, I was a little suspicious. It has been six years since the publication of
The Deathly Hallows
and two years since the last movie was released. I was wondering if there would be enough interest in a Harry Potter inspired magazine. I am glad to see I was wrong.
Part of what makes this issue so bloody brilliant, is that while it is inspired by the magical world of J.K. Rowling, any of the pieces could stand on their own as great, wearable knitwear.
The cardigan on the front cover,
Ginny's Cardigan
, is a perfect example. Yes, I can imagine Ginny, Hermione or Luna wearing this. But I can also see it fitting seamlessly into any muggle's wardrobe.
Mari Chiba
designed this cardigan in
Woodland
, which is a perfect choice. The yarn is made of wool and nettles (an environmentally friendly plant - one that I am sure Madam Sprout would have in her greenhouse) which has great stitch definition for the lace, while maintaining beautiful stockinette stitch. The cardigan has a pretty scoop neckline that is universally flattering and my favorite thing in any top/sweater/dress – POCKETS! Mari is hosting a
KAL
on Ravelry and she would love it if you joined her. A few of us here at CEY headquarters are going to be joining in as well. I am making mine in the blue that is pictured and our graphic designer is making hers in the Fern color of the Woodland.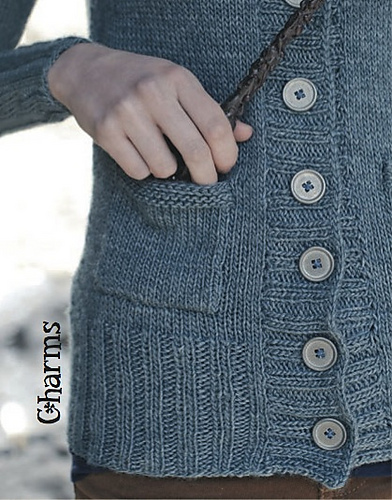 Another great design that features Classic Elite Yarns is
The Gray Lady's Cloak
.
Bethany Hick
used
Giselle
to make a wispy cloak that conjures the feeling of the Ravenclaw ghost. It is light and airy and slightly see-though – exactly what you would expect from a ghost that has been wandering the halls of an old castle for centuries. The Gray Lady was quite shy and liked to stay in the shadows, so the hood is ideal for concealing oneself. Bethany updated the cloak by making it in a shorter length, so it can easily be incorporated into a modern wardrobe.
I have also decided that while I am working on my Ginny's Cardigan for the KAL (that starts on Aug. 10) I am also going to reread one of the Harry Potter books. I think I have settled on
The Order of The Phoenix
, as it was always one of my favorites. I hope that the magazine inspires you to not only knit one these awesome pieces, but to revisit a favorite book – whether it is a HP book, or just an old favorite.
Apparate
over to your LYS to get your copy today. Or travel by flo powder if necessary. A time turner won't be able to help you with this if you delay!
Knit on!
P.S. I am a Ravenclaw. What
house
do you belong in?
P.P.S. FYI...Accio doesn't work on the magazine when it is on the table and you are sitting on the sofa.
Photos courtesy of Interweave Press, Nathan Rega of Harper Point Photography
.